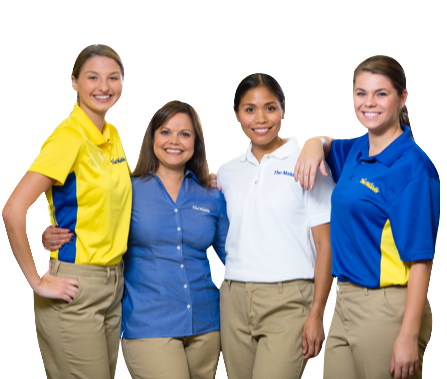 Is keeping up with the housework becoming too time-consuming? After a long workday, there are many other things to do besides come home and clean the house, and it's not a fun way to spend your weekends either. Between the kids, pets, activities, and responsibilities, it can all get to be too much. Take just one thing off your full plate—the house cleaning—and you'll be surprised how much easier life can be. Let The Maids take care of your house cleaning in Winston Salem and your whole family will experience the benefits. Cleanliness and organization reduce stress in adults, children, and even pets. Everyone will feel better and your home will be a healthier place.
Cleaning Services in Winston Salem to Fit Your Lifestyle
Weekly Service

 

Bi-Weekly Service

 

Monthly Service
All routine home cleaning services can be customized to meet your needs and budget. You can determine the frequency and types of cleaning services your home needs. The Maids can make recommendations for services based on your lifestyle. A big family with pets may need cleaning services more frequently. A couple living alone may only need a thorough cleaning once a month. You can even customize what each weekly, bi-weekly, or monthly service will entail. Perhaps you need some areas of your home cleaned every week and others only once a month. The Maids will create a cleaning regimen just for you.
Special Services for Certain Times When Professional-Grade Cleaning is Necessary
Spring & Occasional Deep Cleaning
Move-in Cleaning
Move-out Cleaning
Cleaning in Prep for a Home Showing/Sale
Residential Carpet Cleaning Services
If you're preparing to sell your home, professional house cleaning in Winston Salem is absolutely worth it. Combine it with carpet cleaning and your home will be show-ready in no time at all.
When you're ready to move out of your old home and into your new one, move out cleaning services make the transition easy. Make sure your home is in immaculate condition for the new owners and that your new home will be move-in ready on your moving day.
Even your spring cleaning can be handled by The Maids so you can get out and enjoy the beautiful spring weather guilt-free.
Reliable, Thorough Cleaning Every Time
The Maids' teams provide the same thorough home cleaning in each Winston Salem home they service with the 22 Step Healthy Touch Deep Cleaning System. Your cleaning team will tackle each room from top to bottom leaving no corner untouched. The Maids don't miss spots or cut corners to get the job done faster. Trained housecleaners work efficiently, restoring your home to a healthy clean in a reasonable amount of time. Services are 100% guaranteed.
The Maids are insured and bonded, so there is no risk to you. All cleaning products used are environmentally friendly so you can rest assured your home is not only clean but safe and non-toxic.
Enjoy life to the fullest and leave the home cleaning to The Maids. Call (336) 221-3129 for a free consultation.