Why Greensboro, NC Carpet Cleaning Services Are Vital for Your Home
Carpeted floors are a popular choice in homes, because they can create a cozy atmosphere and provide sound-insulation for any room, plus carpeting is versatile enough to match any decor. However, like other floor types, it also has its fair share of disadvantages. For instance, dust and dirt particles can accumulate in carpets that can foster the growth of different types of harmful microorganisms.
Carpet Cleaning Eliminates Pollutants
Soil and grit can accumulate deep into the fibers of your carpet, which not only reduces its service life, but also enables harmful mites and bacteria to grow if left unchecked. While the carpet may appear clean, up to 85 percent of the dirt the carpet holds is buried deep within the pile. As you walk on your carpet, some of the contaminants may get released back into the surface and mix with the indoor air, which could then cause respiratory illnesses among the residents. Carpet cleaning helps remove these contaminants.
Carpet Cleaning Prevents Mold Growth
Any fabric can promote mold growth if left unclean for a long period. Food particles or spilled drinks are among the most likely causes of mold growth in carpets. If a carpet is left wet for too long, it becomes a breeding ground for mold and mildew. Mold spores are dangerous because when they mix with the indoor air, and when inhaled, they can lead to certain respiratory illnesses.
Why Hire Professional Carpet Cleaners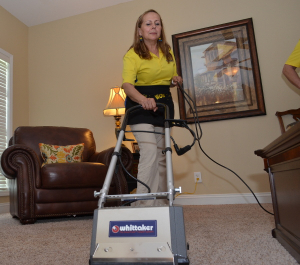 You might think that vacuuming your carpet is enough to get it cleaned. The truth is, since you're dealing not just with dust on the surface but also built-up grime embedded deep in the fibers, you will need a more powerful solution. Professional carpet cleaner's equipment is powerful enough to eliminate these hidden contaminants, improving the air quality in your home. At The Maids of the Triad, we use a low moisture encapsulation cleaning system that dries quickly within 45 to 60 minutes – which is much faster than conventional steam-extraction methods.
No one can perform these carpet-cleaning methods better than professional cleaning services in Greensboro, NC like The Maids of the Triad. These experts not only have the right carpet cleaning skills, but also the proper equipment and materials. Their methods are safer and more comprehensive than simple DIYs. They are trained to improve the carpet's durability and remove allergens, restoring your carpet to its original quality and beauty. Maintaining your carpets with regular professional cleanings will help prolong the life of your carpet and will leave them feeling and looking fresh and clean.
Deep cleaning your carpets on a regular basis is essential to prevent dirt, grime, and other pollutants from accumulating deep in the fibers. Renting a carpet cleaning machine may be less expensive than hiring a professional, yet the advantages of having a professional deep cleaning makes the extra cost worth it. Not only do professional carpet cleaners in Greensboro like The Maids of the Triad save you time, they also ensure that your carpets are cleaned safely and effectively.
https://www.themaidstriad.com/wp-content/uploads/2016/08/logo.png
0
0
maid2399
https://www.themaidstriad.com/wp-content/uploads/2016/08/logo.png
maid2399
2015-04-30 04:14:54
2017-02-01 15:14:35
Why Greensboro, NC Carpet Cleaning Services Are Vital for Your Home