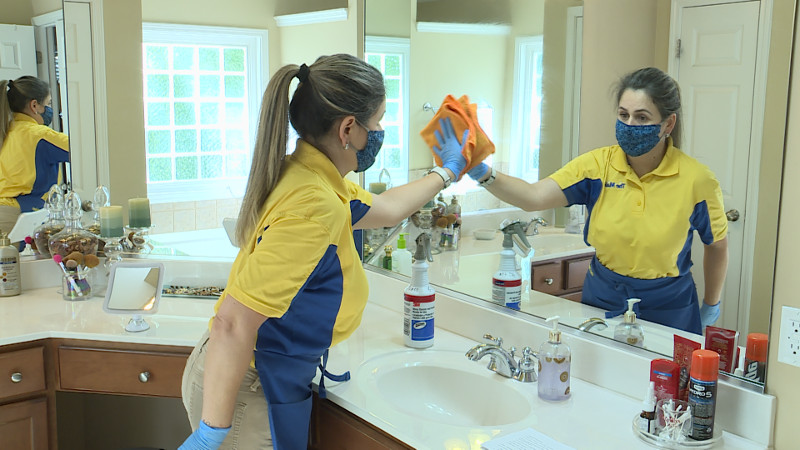 Are you looking around your home and feel like it needs a little extra love? The home may not be a mess, but it does need a little extra cleaning in those hard-to-reach spots you have been ignoring all year long. Whether spring is in the air or you got down to play with the dog and noticed how dirty your baseboards are, it is time to look into a maid service in Greensboro to help give your home a deep clean.
What is a Deep Clean?
A deep clean goes beyond the surface level cleaning and helps you get some of the dirt and grime off areas that you rarely ever touch. Wiping down the bathroom counter would be traditional cleaning while scrubbing the soap scum off the shower head would be a deep cleaning. Each room will have different tasks to help complete a deep clean and when you hire one of the premier teams of cleaners in Greensboro, you can make sure all the work gets done.
The Bathrooms
Deep cleaning in the bathroom means:
Removing the scale buildup on faucet and shower heads.
Removing soap buildup from tubs and showers.
Cleaning mirrors with a product like 3M glass cleaner and protectant
Cleaning and sanitizing toilets
Cleaning and sanitizing the counters, sinks, and floors
The Kitchen
Deep cleaning of the kitchen means:
Cleaning all appliances.  You may also want to clean inside ovens and refrigerators.
Cleaning and sanitizing cabinets and countertops.
Cleaning the backsplashes.
Vacuuming and mopping the kitchen floors
Dusting light fixtures
Deep Cleaning Throughout the Home
A deep clean of  your home means:
All the fingerprints are wiped off doors
Baseboards, ledges, blinds and ceiling fans are dusted
Vacuuming upholstery furniture, and under beds
The window ledges are cleaned
Removing cobwebs and vacuuming air vent covers
Vacuuming all floor and mopping all hard surfaces
Scheduling carpet cleaning
These are tasks that often need doing around the home, but get ignored because they take time and are difficult to do. A maid service in Greensboro will help to make your home sparkly clean with the right deep cleaning for every job.
Using the Right Supplies
You will need to use different supplies to get a deep cleaning done. These supplies are meant to get some of the harder dirt and grime off items around the home so they shine again. These supplies can get expensive, but they make a difference. Instead of taking on all the costs to keep these cleaning supplies around and hoping they last until you get to a deep clean in the future, hire the right cleaners in Greensboro to do the work for you.
A good deep cleaning of your home requires the right maid service in Greensboro. The Maids of the Triads' many years of experience will help you to get your home the deep cleaning it needs for that next party or an unexpected guest coming over. Trust the Maids of the Triad as your chosen cleaners in Greensboro.
https://www.themaidstriad.com/wp-content/uploads/2016/08/logo.png
0
0
Preston Howard
https://www.themaidstriad.com/wp-content/uploads/2016/08/logo.png
Preston Howard
2022-03-01 16:28:47
2022-12-09 06:28:28
What Exactly is a Deep Clean?