The Value of Trusted Cleaning Services in Greensboro, NC Lies in Time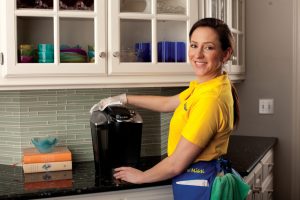 Many people in the United States normally work eight to nine-hour workdays, often racking up several extra hours. That's why when one gets some precious free time, the last thing he or she needs is to spend a whole day cleaning the house.
This niche is where cleaning services prove their value, going into homes and saving owners the trouble of tidying up the whole place by themselves. This can only happen, however, when one can entrust his/her dwelling to responsible cleaners.
Trusted companies that provide cleaning services in Greensboro, NC, such as The Maids of the Triad, even make this information readily available on their online FAQ pages, offering to send their insurance certificates over to potential clients. Reliable companies should also give guarantees that house or apartment keys are kept in a secured location with corresponding owner details saved in a separate place.
Once a cleaning company has established its good reputation and begins its work, it becomes easy to understand why the demand for this particular firm has risen throughout the years. Since such companies specialize in providing comprehensive cleaning solutions, they put attention to details that homeowners might miss, such as hinges on toilet seats and fingerprints on phone receivers. Once the cleaners have done the "dirty" work, owners can come home to a spotless place that's conducive to rest and relaxation.
Tasks such as vacuuming, sweeping, or scrubbing the bathroom floor consume vital hours that are better spent on more important things. The popularity of house cleaning services in Greensboro, NC and other places all over the country comes as no surprise then, because they are freeing up priceless time for their clients that the latter can spend instead on their hobbies, with their friends, or bonding with their family.
https://www.themaidstriad.com/wp-content/uploads/2016/08/logo.png
0
0
Preston Howard
https://www.themaidstriad.com/wp-content/uploads/2016/08/logo.png
Preston Howard
2014-10-28 03:47:51
2017-02-01 16:21:39
The Value of Trusted Cleaning Services in Greensboro, NC Lies in Time