The Ultimate Pre-Vacation House Cleaning Checklist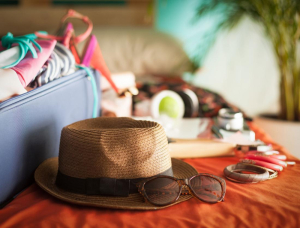 Would you prefer to come home to a clean house after being away on vacation? Most of us would, but we get so caught up in packing and preparing to leave, that we forget about what it's going to be like when we return home. If you take the time to follow this pre-vacation cleaning checklist, you will thank yourself later when you return home tired and can simply relax in your already tidy house. Feeling rushed and just don't have the time to clean? Schedule professional house cleaning in Greensboro, NC, before you leave to get your home in order.
Before you go:
Wash, dry, and put away all dishes
Run garbage disposal until clear (peel from citrus fruit helps to freshen it)
Wipe down counters and other kitchen surfaces
Sweep/vacuum/mop floors
Clean out refrigerator (throw away any food that would potentially spoil while you are gone)
Take out all trash and recycling (be sure to empty wastebaskets in all rooms)
Declutter and tidy up throughout your home
Change all bed sheets (falling into a freshly made bed when you arrive home will feel heavenly)
Wash and put away laundry (you will come home with plenty of dirty laundry; start out ahead)
Clean bathrooms thoroughly (prevent mildew growth while you're gone)
After a fabulous vacation, you will likely be physically exhausted (but mentally rejuvenated). The relief you feel to be home will be that much greater when you come home to a clean house. It will also help you battle those post-vacation blues when you don't have a bunch of housework to do. Take the time to get it done before you go and you'll thank yourself (or your house cleaning service) later.
Short on Time? Schedule Professional House Cleaning in Greensboro, NC, Before You Leave
Do you have too much to do to get ready for your vacation? Does your to-do list seem overwhelming? Let the professionals handle the house cleaning so that you can focus on the important tasks like packing and trip details. The Maids of the Triad are pre-vacation house cleaning experts. Every item on your list, and some you haven't even thought of, will be taken care of in a timely manner. You'll be ready to go with time to spare. Eliminate pre-vacation stress when you schedule professional house cleaning in Greensboro, NC, before you leave home.
The Maids of the Triad are reliable, insured, and bonded. Their 22-Step Healthy Touch Deep Cleaning System is proven to get your home cleaner than ever before. Earth-friendly cleaning products are safe for adults, kids, and pets and remove allergens like dust and pollen from your home. Trust your home to The Maids and experience a whole new level of household cleanliness. Call or text (336) 292-7800 for a free estimate today.
https://www.themaidstriad.com/wp-content/uploads/2016/08/logo.png
0
0
The Maids
https://www.themaidstriad.com/wp-content/uploads/2016/08/logo.png
The Maids
2017-06-15 17:10:22
2017-08-29 17:16:39
The Ultimate Pre-Vacation House Cleaning Checklist