Tips for Eliminating Cooking Smells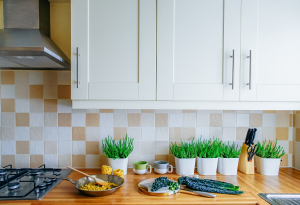 Do you enjoy cooking and creating all sorts of culinary masterpieces? Or maybe you simply microwaved some fish sticks for the kids last night. Either way, cooking smells can sometimes linger for what seems like forever. Whether you're expecting guests, showing your house, or just want a fresher smelling home, there are ways to banish those lingering cooking smells. Try these tips on your own and if you're still not satisfied, hire one of the most reliable cleaning services in Greensboro to give your home a deep clean that will leave it smelling fresh: The Maids.
Prevent Smells from Taking Hold
It's much easier to remove cooking smells if they aren't as strong to begin with. Proper ventilation is the key to controlling cooking odors. Be sure to run ventilation fan over your stove while you are using the stovetop or oven. Open doors and windows while cooking, if the weather permits. All of these things help keep the smells from taking root in the house.
Replace Unpleasant Cooking Smells by Cooking Something Else
Push out those stale cooking smells by cooking something more pleasing.
Try boiling a pot of water on the stove with lemon or orange peels. Boiling cloves works as well.

Bake just a little bit of butter, cinnamon, and brown sugar in the oven.  

Place baking soda in bowls around your kitchen.

Soak cotton balls with vanilla and place them around your kitchen.

Make a pot of coffee or just roast the beans to get the same aroma.
Burn Scented Candles, Don't Just Warm Them
Candle warmers are popular and often make beautiful decorations, but they are not as effective at eliminating smells. While warming scented wax does allow the fragrance to permeate, the act of burning a candle with a flame goes much further toward dissipating odors. Warming the wax just adds the smell to your home and may mask the cooking odors a little, but it's not as effective as burning will.
Get an Air Purifier or Have an Air Purification System Installed
You can purchase air purifiers that stand alone in a corner and help to freshen the air in your home. The air gets pulled in through a HEPA (high-efficiency particulate arrestance) filter and the particles in the air that cause the odor are removed. You can also have an air purification system installed in your HVAC (heating, ventilation, and air conditioning) system. These filter the air as it enters your heating and cooling system ducts to remove particles and odors. Some systems even create new fresh air molecules that are distributed throughout your home.
Hire Cleaning Services in Greensboro like The Maids
To really banish those stubborn cooking smells, hire the best cleaning services in Greensboro to give your home a deep clean. The Maids of the Triad can clean your kitchen, the source of the smells, and the other rooms in your home that are less affected. Every corner, every surface, everywhere. Call or text (336) 292-7800 for a free estimate.
https://www.themaidstriad.com/wp-content/uploads/2016/08/logo.png
0
0
The Maids
https://www.themaidstriad.com/wp-content/uploads/2016/08/logo.png
The Maids
2019-02-22 12:58:02
2019-04-08 13:29:42
Tips for Eliminating Cooking Smells