The Best Way to Load your Dishwasher: 7 Tips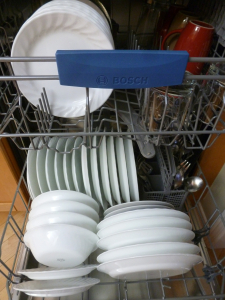 Are you particular about how your dishwasher is loaded? Most of us have a certain way we think it should be done, and can often be found rearranging things after someone else has done the loading. The key is to strike a good balance between getting the most dishes in the racks as possible and arranging them in a way that will still get them clean. Here are some tips from an expert maid cleaning service in Winston-Salem, NC.
Rinse First –

You will always get better results if you rinse the food off of dishes before putting them in the dishwasher. It also keeps your dishwasher from clogging up with food particles. If you're planning to run the dishwasher right away, just rinse enough to remove uneaten food. If you may not run the dishwasher until later or the next day, a more thorough rinse may be in order.

Angle Dishes Toward the Spray –

Most dishwashers spray water from the center, so the plates and bowls should face the center for best results.

Load Small to Large from the Center Out –

Put the smallest things closer to the center and the larger items like pans, trays, and platters along the outside. If you put large items in the center they will block the spray of water from reaching the smaller dishes on the outside.

Plastic Items Should Go on the Top Rack –

The heating element in typical dishwashers is at the bottom, so plastic should be loaded on the top rack to keep from melting. Be sure all plastic is secure and not small enough to fall through onto the heating element.

Load Cups at an Angle Between Prongs –

Cups should go between prongs, not on them as the prong can leave water marks in your glasses. And to prevent water pooling on the cup bottoms, load them at an angle as much as possible to encourage the water to run off for faster drying.

Separate Fragile Items –

Delicate things like wine glasses and crystal need plenty of space between to keep from hitting together and breaking. Try loading plastic items between them to save space.

Keep your Flatware Separated –

Newer dishwashers have a silverware basket with slots to help keep your spoons and forks from nesting together and not getting clean. But if you have the old fashioned basket, each compartment should have a mix of different utensils. Turn some up and others down for more variety. Sharp knives should be separate from other flatware to prevent scratches or nicks. If you have actual silver or silver-plated flatware, keep it separate from any stainless steel, which can cause a bad reaction in the heat and moisture.
Want help from a professional maid cleaning service in Winston-Salem, NC?
Whether its dishwasher loading or other housekeeping issues that are bogging you down, The Maids of the Triad can help. A reputable maid cleaning service in Winston-Salem, NC, The Maids can take the hassle of housecleaning off your hands and make your home sparkle. Cleaning regimens are designed to work around your busy schedule so you can simply come home to a clean, fresh-smelling house. Call The Maids to get started today at (336) 292-7800 (Call or Text).
https://www.themaidstriad.com/wp-content/uploads/2016/08/logo.png
0
0
The Maids
https://www.themaidstriad.com/wp-content/uploads/2016/08/logo.png
The Maids
2019-01-05 12:43:47
2020-07-15 18:33:22
The Best Way to Load your Dishwasher: 7 Tips