The Secret to Getting Pet Smells Out of your Home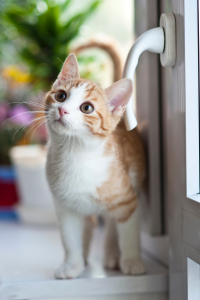 Do you love your pets but not necessarily their smells? Or maybe you don't love pets but the previous owners of your new home or apartment did, and they left the smell behind. Perhaps you need to get the pet smells out of your home before you put it on the market. Whatever the reason, you probably don't want guests to be greeted with the smell of pets as soon as they walk in your front door. Take heart; it is possible to remove pet odors from your home, even if pets are currently residing there. Here are some tips for removing those pesky smells and preventing them in the future. And for a little extra help, hire a maid service in Greensboro like The Maids of the Triad.
Start at the Source of the Smell.

If your home smells of pets, it's often because there is a mess somewhere that needs to be cleaned up. Do your best to thoroughly and completely clean up pet accidents as soon as you discover them. This will go a long way toward eliminating the odors in your home. Clean the litter box and replace with fresh litter. Wash the dog's bedding and clean all of your pets' favorite spots.
Clean Problem Areas.

If you don't have pets and you're trying to remove existing pet odors, start with the areas that are likely to hang onto smells like carpet, curtains, and furniture. Here are some hints for getting old smells out of various materials:
Use enzyme cleaners that will break down the proteins in bodily fluids.
Use powdered cleaner to vacuum carpets.
Use a carpet shampooer or have your carpets professionally cleaned.
Remove odors from upholstery using water, dish soap, and a soft brush. But be sure to read the care instructions first, as some upholstery is dry clean only.
To clean leather, mix water and vinegar and use a soft cloth to wipe down. Be sure to wring as much water as possible out of the cloth before wiping.
Open windows as much as possible and let a fresh breeze blow through.
Use an air and fabric freshener spray.
Hire a maid service in Greensboro to give your home a thorough, professional-grade cleaning.
Prevent Pet Odors.

Having pets doesn't mean your house has to smell like you do. It's possible to prevent pet odors from getting out of control. Try these tips:
Bathe your pet frequently.
Clean the litter box often.
Clean up accidents as soon as you discover them.
Wash bedding and materials where pets lay.
Vacuum frequently and shampoo carpets periodically.
Schedule a maid service in Greensboro to clean your home regularly.
Need More Help? Hire The Maids to Give your Home a Deep Cleaning
Sometimes you've done all you can and those pesky odors still keep hanging on. It's time to call in reinforcements: The Maids of the Triad. The Maids specialize in cleaning homes so that your guests won't know you have pets unless they see them. And all cleaning products used by The Maids are pet-friendly, so you will know your home is clean and your pets are safe. To schedule a deep clean of your home, call or text (336) 292-7800.
https://www.themaidstriad.com/wp-content/uploads/2016/08/logo.png
0
0
The Maids
https://www.themaidstriad.com/wp-content/uploads/2016/08/logo.png
The Maids
2019-03-05 13:30:13
2019-04-08 13:31:38
The Secret to Getting Pet Smells Out of your Home