Organizing for Kids: 5 Quick and Easy Tips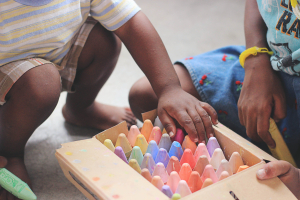 Do your kids struggle with managing their messes? Kids aren't born with a natural ability to be organized. They lack the skills and more importantly, the motivation. Toys fall where they may and are forgotten as new ideas lead a child to the next plaything. Clothes are often shed and left all over the floor, the bed, and other surfaces. Then when parents get tired of the mess and demand that the kids clean up, they often don't know where to start or how to properly sort through the vast number of objects littering the floor. A few basic tips can help kids to clean up and keep their things more organized. After you get the kids organized, if you still need help with home cleaning in Greensboro, call The Maids to help you declutter.
Color Coding.

A color system for organizing works for even the youngest children. Get bins of a certain color or label bins with colored tape or labels. Then assign all items a certain color bin to live in. It may help to put a piece of colored tape or a marker spot somewhere on each item so that it's easy to determine which storage bin it belongs in. Simply match the colors and cleanup is a cinch.
Dual-Purpose Storage.

Get organized and save space at the same time by creating strategic storage areas that serve two purposes. Like benches or ottomans with storage under the seats. Make the most of the space under the bed with rolling storage bins that pull out and roll back under easily. Turn an old coffee table into a play table and use the storage space underneath for Legos or other toys.
Daily Clothing Bins.

Tired of the clothing mess? You're not sure what's clean and what's dirty. Your child wants to choose what to wear but you don't approve. It's enough to drive you crazy and make you late. Get a set of bins and plan outfits for the whole week. Put the entire outfit for each day in the bin including socks, underwear, and even shoes. Label the bins with the days of the week.
Character-Code Bathrooms.

Does everyone seem to get their towels, washcloths, facecloths, etc. mixed up? Assign everyone a character, like a superhero or Disney princess and get all items that match their character. Label each spot where items belong with the proper character and see how easy it is to keep the bathroom organized.
Entryway Organizer.

Another one of the most disorganized places in homes with kids is the entryway. Everyone comes in and sheds their jackets, shoes, backpacks, keys, etc. and it can create quite a mess. An entryway organizer is designed specifically to organize this area. There are many options available from a metal rack with a series of hooks and a shelf for shoes to a wooden structure with separate cubbies for each child's personal items.
Professional Home Cleaning in Greensboro: The Best Way to Combat the Mess
Getting organized is an important step in improving the look and feel of your home. Kids thrive in orderly environments and adults do too. Organize the clutter and then schedule professional home cleaning in Greensboro to give your home a deep clean. Get on a routine cleaning schedule that will help your family to keep things neat and organized. Call The Maids of the Triad: (336) 292-7800 (call or text).
https://www.themaidstriad.com/wp-content/uploads/2016/08/logo.png
0
0
The Maids
https://www.themaidstriad.com/wp-content/uploads/2016/08/logo.png
The Maids
2019-03-27 13:32:02
2019-04-08 13:33:43
Organizing for Kids: 5 Quick and Easy Tips