House Cleaning Services in Greensboro Can Get Your Home "Buyer-Ready"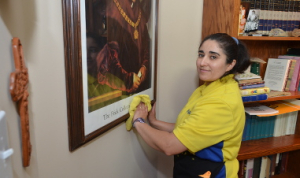 You've made the leap and decided to list your home for sale and move into a new home that fits your current lifestyle. Selling your home can be exciting, but the process can also be overwhelming. Selling your home will require some decluttering, organizing, and especially some cleaning to prepare it for open houses.
A clean home is a must in order to make a good first impression on potential buyers. It should be organized and cleaned thoroughly as soon as you are ready to list it. Potential buyers can drop in with short-notice. It can be a challenge, but you've got to keep your home clean at all times, if possible.
Follow these tips used by the best house cleaning services in Greensboro NC to get your home "buyer-ready."
Expert cleaners in Greensboro say: "Declutter Your Domain"
Decluttering is very important to prepare your home for cleaning as well as selling. You're planning on moving, so minimize what you'll need to move, and what buyers need to see by decluttering.
Take small knick-knacks and box them up. Make a pile of items to donate. Clear countertops, stairs, table tops, and dressers of items that can be stored elsewhere or boxed up.
While you're in declutter mode, the experts also recommend purging the basement, attic, and garage of items that can be tossed, boxed, or donated as well.
Decluttering provides a clean spacious feel to a home so potential buyers can imagine their things in it.
Cleaning tips from a professional house cleaning service
When professional house cleaners prepare a home for sale, they focus on the rooms that most buyers are interested in.
The tub, toilet, baseboards, and faucets should be thoroughly cleaned. Wipe down all mirrors. Remove dust, mold, and mildew completely. A new shower curtain and fresh towels can renew the bathroom's look as well.
Kitchen counters and the sink should be cleaned thoroughly, but don't forget the appliances—both inside and out. Curious buyers will open stoves, refrigerators, and microwaves to inspect what they may be inheriting. Cleaning out the fridge of expired items, the pantry, and cabinets of vitamins and other expired or unnecessary items will help it pass buyer's inspection.
While you're there, mop and sweep the floors, wipe down baseboards, light fixtures, and light switches.
This is where a buyer will imagine spending his or her days after work decompressing. After decluttering; mop or vacuum the floors, dust and wipe down the blinds, baseboards, entertainment center, and all other furniture. Polish furniture that requires it and organize lamps and pictures so they are centered on table tops and walls.
Here's an area that can really impact a buyer's decision. Where they may be sleeping is important. Lack of space, clutter, and over-the-top décor can impact a decision to buy. Box up unnecessary items. Remove seasonal clothing from closets to improve the appearance of space. Dust and mop/vacuum the floors, clean mirrors, center pictures, and wipe down any fan blades.
Cleaners reveal what is often missed
Windows: Clean both inside and out
Drapes: Remove them and put them through a fluff cycle
Deep clean carpets to ensure odors and deeper stains are removed
Showoff Your Home's Light – After dusting, open up the blinds so your home is inviting
Pet Supplies/Litter: Don't forget to change litter boxes and clean up pet areas
Get your home "buyer-ready" with house cleaning services in Greensboro
Selling your home can be exciting — but preparing it for sale can be stressful. Get your home "buyer-ready" today and list it tomorrow by calling the number one expert cleaners in Greensboro, The Maids, at (336) 292-7805.
https://www.themaidstriad.com/wp-content/uploads/2016/08/logo.png
0
0
maid2399
https://www.themaidstriad.com/wp-content/uploads/2016/08/logo.png
maid2399
2016-05-02 17:38:05
2017-12-19 20:09:04
House Cleaning Services in Greensboro Can Get Your Home "Buyer-Ready"