Hiring a Home Cleaning Service in Greensboro, NC: A Great Gift Idea for Mom or Dad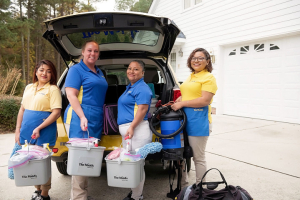 When you were a child, finding the perfect gift for your parents was probably easy. Mom loved the flowers, candies, and knick-knacks she received every year. Dad loved a new tie or tool. If your parents are like most these days, they are probably busy with a career in addition to being a full-time mother. This may not leave a lot of extra time to take good care of the family home. While they might never admit it, chances are good your parents could use a little extra help with keeping the house clean. Why not consider hiring a home cleaning service in Greensboro, NC, to give them a helping hand.
There When You Need a Thorough Home Cleaning
When you are considering hiring a home cleaning service, you will find there are two plans of action to choose from. The first is an occasional cleaning service, the other is a recurring type of service. With the occasional service, you get to choose when the service goes to your parents' home. You could choose to have their home cleaned at the end of winter when everything is at its dirtiest, or perhaps right before an upcoming event like a birthday party or anniversary. All you have to do is call The Maids and we will have a cleaning team of four scheduled to go to your parents' home when needed.
The Gift That Saves Mom and Dad from Cleaning Drudgery
A far better choice might be to give your mom and dad a gift that truly keeps on giving. This is a recurring service that provides a team of pros on a regular basis. The Maids has cleaning service plans on weekly, bi-weekly, and monthly schedules to meet your budget and your parents' cleaning needs. Imagine your mom's face when she learns that you have gone about hiring a home cleaning service in Greensboro, NC, and that she no longer must face the drudgery of doing the weekly house cleaning chores.
These services include our 22-Step Healthy Touch® Deep Cleaning System, a team of four professionally trained cleaning experts, and our selection of environmentally preferred products. We also use the latest in high-tech cleaning equipment and our own brand of unique cleaning processes to ensure our experts do the job right the first time and every time.
We Clean It All
From under the beds to the top of the refrigerator, you can count on the professionals from The Maids to clean your parents' home to their satisfaction. We use backpack vacuums with HEPA filters that trap up to 99 percent of all allergens and bacteria from your furniture and carpets. Your parents are sure to be happy your choice of gift.
If you are thinking about hiring a home cleaning service in Greensboro, NC, please call The Maids at 1-336-292-7805. We offer a free consultation along with a wide selection of home cleaning services intended to meet the needs of your mom and dad, and help them keep a home they can be proud of.
https://www.themaidstriad.com/wp-content/uploads/2016/08/logo.png
0
0
The Maids
https://www.themaidstriad.com/wp-content/uploads/2016/08/logo.png
The Maids
2017-05-19 09:29:58
2017-12-20 18:57:19
Hiring a Home Cleaning Service in Greensboro, NC: A Great Gift Idea for Mom or Dad