Hardwood Floors: Basic Cleaning and Care Tips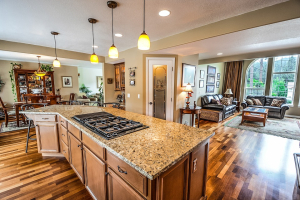 Hardwood floors are beautiful, but not the most durable of flooring materials. To maintain their beauty, it's important to know how to properly care for them. When proper care is taken, wood floors can last for hundreds of years and hold their value. One of the easiest ways to make sure your hardwoods are well-maintained is to hire a maid service in Winston Salem. Professional house cleaners know what to do to keep your wood floors looking pristine. Follow these basic care tips, even in between cleaning appointments.  
Daily Care: It is important to dust, mop, or sweep wood floors daily. When dirt, dust, and other debris come in on people's shoes and get walked around, it can scratch and dull the finish. For this reason, daily care is needed to prevent damage to your floors.  
Weekly Care: A hard floor vacuum works well for keeping wood floors clean. If your vacuum cleaner has a bare floor setting, use that. Otherwise, the carpet brush setting can scratch floors and also tends to throw dirt and dust around on hard floors.  
Monthly Care: Clean floors with a wood floor cleaner that is made for the type of wood and finish your floors have. If you're not sure what would be the best cleaner to use, a maid service in Winston Salem can make a recommendation for you.  
Every Few Years or As Needed: Hard floors need a maintenance coat applied every three to five years on average, but maybe more or less often depending on the amount and type of traffic your wood floors receive. The maintenance coat protects your hardwood floors from permanent damage like deep scratches and chips.  
Every Decade or So: It may be necessary after ten or more years to completely refinish your hardwood floors. This means sanding them down to remove previous coatings, scratches, or marks. Then a finish coat is applied for a fresh new shine. This is also a way to restore old hardwood floors that need a complete overhaul, such as in an older home. 
How Often Should a Professional Maid Service in Winston Salem Care for your Wood Floors?
The answer depends on your personal preference. If you schedule your house cleaning weekly, then you will only need to sweep or dust mop your floors in between appointments. If you schedule your house cleaning appointments every two weeks or twice a month, you will need to sweep and vacuum your wood floors between visits. Monthly professional house cleaning would mean that your maid service in Winston Salem would use a wood floor cleaner on your floors, preventing you from having to try and figure out which floor cleaner to use and how to use it. The maintenance coat and complete refinishing should be handled by flooring experts when needed.  
The Maids of the Triad Can Give your Hardwood Floors the Specialized Care they Need
If you want your hardwood floors to stay beautiful, put them in the capable hands of The Maids. With the experience necessary to care for wood floors of all types, you can be sure the proper cleaners will be used to keep your floors looking great. Call The Maids for a free consultation: (336) 292-7800 (call or text).
https://www.themaidstriad.com/wp-content/uploads/2016/08/logo.png
0
0
The Maids
https://www.themaidstriad.com/wp-content/uploads/2016/08/logo.png
The Maids
2018-12-08 14:59:22
2019-02-08 18:59:41
Hardwood Floors: Basic Cleaning and Care Tips