Grilling Ideas for Memorial Day Weekend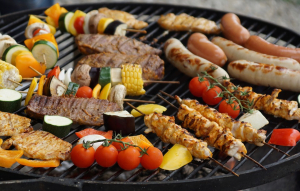 If ever there was an ideal time of year for a barbecue, it's Memorial Day weekend. The weather starts to feel like summer, pools open, and grills are fired up all over the country. Want to impress your guests with an original menu, something beyond the usual hamburgers and hotdogs? Plan the barbecue to beat all others with these grilling recipes. And when it's over, hire a maid service in High Point to get your home back in shape while you relax.
Appetizers:
Pickle Sliders: Pickles are good for munching as an appetizer and as a garnish on your burger. Make the pickles into the buns around miniature hamburger patties. Add a variety of toppings and skewer each with a toothpick. Hungry guests will appreciate the protein-packed starter.
Greek Salad Skewers: Nothing says "appetizer" like food on toothpicks. But salad on a stick? Precisely. Just cut feta cheese and cucumbers into cubes, use whole olives and grape tomatoes, and marinate in olive oil, lemon juice, garlic, dill, and parsley. Slide all 4 ingredients onto fancy toothpicks and serve.
Main Course:
Pineapple Bun Burgers: Burgers may be typical grilling fare, but put them on pineapple slice buns and you've got a totally original and much healthier version of an old classic. Core and slice your pineapple into rings for buns and grill until seared. Use canned pineapple rings if you're pressed for time. Serve with burgers and the usual toppings in between.
Philly Cheese Steak Foil Packs: This easy recipe is your main course and sides all in one. Wrap sliced steak, peppers, onions, and any other veggie of your choice (mushrooms, perhaps) in foil and grill or toss over an open fire. Grill until steak is done to your liking, top with cheese, and enjoy, no bun needed.
Sides:
Impress your guests by grilling your side items as well, making it a meal cooked entirely outdoors.
Grilled Ranch Potatoes: Yes, you can even grill potatoes. These ranch flavored potatoes grill up tender and delicious, complementing any main dish. Cut baby potatoes in half or larger potatoes into cubes and coat with lemon juice, olive oil, and ranch seasoning. Grill until tender and top with ranch and chives.
Cheddar Bacon Ranch Corn: Don't just serve corn on the cob; make it more flavorful by coating the corn in butter and ranch seasoning before grilling. Once ready, top with bacon pieces and ranch dressing. Enjoy straight off the cob.
Hire Maid Service in High Point for Post-Barbecue House Cleaning
Hosting is fun, at least until it's time to clean up. Once the last guest leaves and the leftovers are in the fridge, you're still left with a mess. Dirt tracked in, carpet spills, and an overused bathroom just to name a few areas that get hit the hardest when you have guests. Consider hiring an experienced maid service in High Point to tackle the mess afterwards so that you can relax. The Maids of the Triad can restore order and cleanliness to your home with the 22 Step Healthy Touch Deep Cleaning System. Call and make your appointment today: (336)292-7800 (Call or Text).
https://www.themaidstriad.com/wp-content/uploads/2016/08/logo.png
0
0
The Maids
https://www.themaidstriad.com/wp-content/uploads/2016/08/logo.png
The Maids
2018-04-19 20:26:24
2020-07-15 18:36:13
Grilling Ideas for Memorial Day Weekend