Greensboro House Cleaning Services Guidelines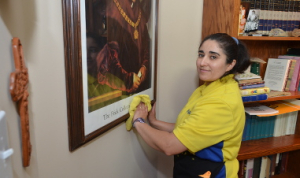 In our busy lives we often do not have time to clean our homes properly, rushing to get the kids to soccer practice or off to school, and then off to work. Who has the time to do any proper cleaning at home? When you find yourself in this situation and you need house cleaning services, call The Maids of the Triad, in Greensboro. We specialize in cleaning homes in the Greensboro, High Point, Burlington and Winston-Salem area.
Our maids are bonded and insured to ensure you receive the best and healthiest house cleaning services possible. All of our cleaning services are backed with a 100% satisfaction guarantee. With our unique 22-Step Healthy Touch Deep Cleaning System, you can rest assured knowing that when our maids leave you will have a spotless healthy home. The Maids of the Triad takes pride in doing things the old fashioned way, meaning our maids clean hard-surface floors on their hands and knees while also adding personal touches to ensure you know we care.
Here at The Maids of the Triad, we offer several different house cleaning services to ensure your home is cared for exactly as it should be. Our 22-Step Healthy Touch Deep Cleaning System was created to provide our customers with a health conscious cleaning approach. We use a 22-step plan of action that includes using healthy cleaning supplies while focusing on great attention to detail. The 22-step plan covers your entire home with our maids focusing on certain areas in your home like the kitchen and bathrooms. Our innovative healthy household cleaning solutions are provided by our maids, so you don't have to supply your own cleaning solutions.
The Maids of the Triad's carpet maintenance is second to none. Our professionally trained carpet cleaning technicians will come to your home and use a fast drying GLS carpet cleaning machine that spreads healthy cleaning solution evenly through your carpet, using less moisture so it dries faster than steam cleaners.
We also offer a move in/out cleaning service. If you are either moving out of your home or apartment or moving into a new one, we will come in and clean the entire place ensuring that you are left with an apartment or home that looks brand new. We also offer a decluttering service to help you sort through the clutter that gathers in your home over time, helping you decide what to keep and what to let go of.
No matter your house cleaning needs, we can help you. Call The Maids of the Triad in Greensboro today to speak with one of our cleaning specialist so we can determine the proper, healthy cleaning care for your home.
https://www.themaidstriad.com/wp-content/uploads/2016/08/logo.png
0
0
maid2399
https://www.themaidstriad.com/wp-content/uploads/2016/08/logo.png
maid2399
2014-07-31 19:07:23
2017-02-01 16:45:38
Greensboro House Cleaning Services Guidelines