Getting your Rental Ready for New Tenants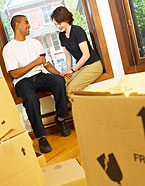 If you are a landlord, you will occasionally have to manage the turnover process of having one tenant leave and another moving in. There is a lot to do to prepare a residence for new tenants, and the task list may seem overwhelming. One very important step can be taken care of quite easily: house cleaning. Hiring a professional maid service in Greensboro will take a huge burden off your shoulders, allowing you to focus on the paperwork and bookkeeping. Professional cleaning services typically have experience preparing homes for new residents and will know exactly what to do to restore order and cleanliness.
Kids or Pets Moving in? Look for a Maid Service in Greensboro that Uses Safe Cleaning Products.
Safe and environmentally friendly cleaning products are better for all people, especially kids and pets who may be more sensitive to chemicals or strong scents. Regardless of who is moving into your rental property, look for a maid service in Greensboro NC that uses earth-friendly cleaning products. An added bonus comes from HEPA filtered vacuum cleaners, which filter even the finest particles out of the air, improving indoor air quality in the home.
A Thorough House or Apartment Cleaning from Top to Bottom, Including the Smallest Details
When you need an in-depth cleaning of every corner of a home, a professional house cleaning service will be sure to miss nothing. Kitchen cleaning includes the stove and fridge. In the bathroom even the toilet seat hinges are scrubbed. Carpet and window cleaning services are available as needed. No matter in what condition the home was left, professional house cleaners can restore it to pristine condition.
Are you in a time crunch to get your rental property ready for a new tenant? Let The Maids of Greensboro handle the house cleaning. The Maids use healthy cleaning products to restore the shine and freshness to the home. Call or Text today for a free estimate: (336) 292-7800.
https://www.themaidstriad.com/wp-content/uploads/2016/08/logo.png
0
0
The Maids
https://www.themaidstriad.com/wp-content/uploads/2016/08/logo.png
The Maids
2016-07-06 02:18:54
2020-07-15 18:40:32
Getting your Rental Ready for New Tenants