Fun Activities for the Family During the Easter Holiday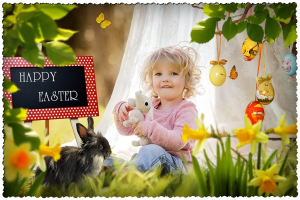 Soon Peter Cottontail will come hopping down the bunny trail as the Easter Holiday festivities arrive. And with Easter comes spring break from school for the kids, meaning plenty of hours to fill. Need some fun activities to keep everyone busy during the holiday break? Here are some ideas that are fun for the whole family. And now that spring is here, it's time for a deep spring cleaning of your home. Spend more time with the family and less time cleaning house by hiring a cleaning service in Greensboro.
Glowing Egg Hunt. Buy battery powered candles (like the ones used in jack-o-lanterns at Halloween) and put them inside plastic eggs. Hide them at night and have a glowing Easter egg hunt.
Make and Decorate Easter Cookies. Dying eggs is fun, but if you don't care for hard-boiled eggs or wish to avoid the mess of food dye, make cookies instead. Cut out sugar cookies with Easter cookie cutters and decorate with frosting and sprinkles.
Make Easter baskets or treat bags for the less fortunate. Filling Easter baskets for your kids is fun, but kids can learn to appreciate what they have by making baskets or goody bags for kids at a local children's home, shelter, or hospital.
Take a hike and look for real bunnies. Kids anticipate the coming of the Easter bunny, but why not get out in nature and see if you can find some rabbits in the wild? Rabbits get pretty active in the spring, so your chances of finding them are greater.
Visit a farm or petting zoo with chicks and baby animals. Want to guarantee that you'll see some cute baby animals? Visit a farm that allows visitors or a petting zoo where your kids can touch the animals. Petting chicks, bunnies, lambs, ducks, goats, and more is an adorable way to spend an afternoon.
Plant flowers or a garden. Get the kids involved in planting some seeds and watching them grow. Flowerbeds, vegetable gardens, strawberry plants, and more are fun for kids to see the fruits of their labor and learn about the life cycle of plants.
Look for sponsored egg hunts in the area. Churches and other organizations typically hold egg hunts around the holiday, most of which are free to the public. And they provide great photo opportunities.
Spring Cleaning Done Right While You're Out Having Fun—Hire a Cleaning Service in Greensboro
Does the idea of spring cleaning bring you more pain than joy? If you are less than thrilled about the idea of giving your home a thorough cleaning, consider hiring a cleaning service in Greensboro to do your dirty work. The Maids of the Triad offer affordable spring cleaning, complete with the 22 Step Deep Cleaning System that ensures not a spec of dirt is missed. It also helps clear out winter dust and spring pollen that give everyone itchy eyes and noses. Avoid contact with allergens by letting The Maids clean your home with HEPA filtered vacuums that remove even the smallest particles from the air. Call or Text (336)292-7800 to schedule your appointment today.
https://www.themaidstriad.com/wp-content/uploads/2016/08/logo.png
0
0
The Maids
https://www.themaidstriad.com/wp-content/uploads/2016/08/logo.png
The Maids
2018-03-05 17:25:30
2020-07-15 18:39:58
Fun Activities for the Family During the Easter Holiday