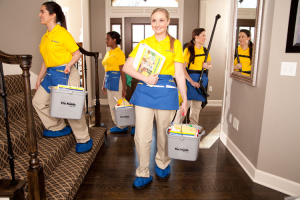 Has cleaning your home become too heavy a burden with all of life's responsibilities? Have you decided it's time to hire a cleaning service? The next decision to make is how often you need cleaning services. There are a few different factors to consider that will help you to know how often you should schedule service appointments. The frequency of your cleaning service in Greensboro, NC, will depend on:
Budget. How often your cleaning service comes will largely depend on what you can afford. Once or twice a month is often the most affordable option, but weekly may be necessary depending on your household.
Number of kids. If you have two or more children living in your house, you will likely need house cleaning service in Greensboro, NC more often than households composed primarily of adults.
Number of pets. Dogs, cats, and other pets contribute to the need for housekeeping. Between hair and other messes pets make, you may find that you need weekly cleanings if you have pets.
Size of your home. If you have a smaller home, you may find it easier to manage the cleaning on your own more often, only needing to have your maid service come once a month. A larger home requires more assistance, and twice a month or weekly may be more helpful.
Personal preference. The level of cleanliness you prefer for your home makes a difference when it comes to choosing the frequency of house cleaning. Some people may need weekly cleaning to feel satisfied, where others may not need their home cleaned as often.
Get a Free In-home Consultation from The Maids Cleaning Service in Greensboro, NC
The best way to decide how often you would like your cleaning service to come is to get a free in-home consultation. The Maids will evaluate your home and give you the best option that suits your budget, family, and lifestyle. Call or text (336) 292-7800 today to schedule your free in-home estimate.
https://www.themaidstriad.com/wp-content/uploads/2016/08/logo.png
0
0
The Maids
https://www.themaidstriad.com/wp-content/uploads/2016/08/logo.png
The Maids
2016-12-21 13:21:01
2017-03-30 14:35:23
How To Figure Out How Often You Need Cleaning Services