A Stellar Cleaning Service in Greensboro Offering Fall Cleaning and Decluttering
Most everyone has a spring cleaning list, but when the leaves start to turn, the sun will set sooner and you'll be spending more time indoors. That's why fall is the perfect time to prepare for more company with a fall cleaning and decluttering. Read some tips directly from the pros in cleaning services in Greensboro.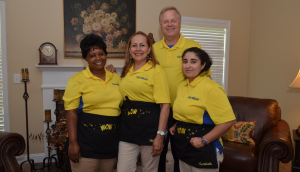 Declutter the Closets
Now is the best time to clean out your closets and bag up your summer clothes to make room for your fall and winter wardrobe. Place your summer garments in storage bins and bags with labels so when spring rolls around, swapping out seasonal clothes will be a breeze.
Organize the Attic
You're likely taking your summer wardrobe to the attic but before you start hauling your bags upstairs; clean it out first. Dust the floors, clean up the cobwebs, organize the space to make the best use of it, and get rid of anything you don't need. The Maids of the Triad recommend you organize the attic both in the spring and fall–it helps you keep track of what's in the attic and maintain organization in an area that is easy to forget about.
Clean Chimneys and Windows
Prepare for the cooler weather by cleaning out chimneys and washing the windows. The light may not shine as long in the fall but it will still reveal unsightly smudges. Dust your blinds and hang heavier drapes to prevent drafts from seeping in during the colder months.
Prep Your Home for Company
The cooler weather brings friends and family over for holiday celebrations. Get your home guest-ready by hiring professional cleaning services in Greensboro NC such as The Maids of the Triad for deep cleaning the carpets, cleaning hardwood floors, and steam cleaning the furniture. Don't forget to prep your kitchen for hosting meals! Clean out your cabinets and declutter your pantries so when your shopping list is doubled for the holidays, you have an organized space to whip up dinner for all.
Spring cleaning may be more popular, but fall cleaning is necessary, especially when it comes to preparing your home for guests.
Get a Head Start on Fall Cleanup with the Best Cleaning Services in Greensboro
Get your head start on preparing your home for fall festivities with expert cleaning services in Greensboro today by calling The Maids at (336) 292-7805. The Maids of Triad have 30 years of experience in fall cleaning so you can spend your time planning fall festivities.
https://www.themaidstriad.com/wp-content/uploads/2016/08/logo.png
0
0
The Maids
https://www.themaidstriad.com/wp-content/uploads/2016/08/logo.png
The Maids
2016-08-03 13:44:53
2017-01-31 13:57:07
A Stellar Cleaning Service in Greensboro Offering Fall Cleaning and Decluttering