Entertaining Tips for the Christmas Holiday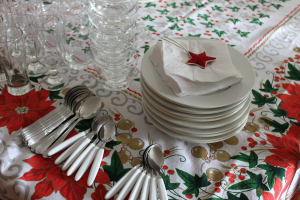 During this festive season, you can be the stress-free host with these tips for entertaining during the Christmas Holiday. Simple touches go a long way in creating a beautiful table, tree, and home.
Hire Maid Services in Winston Salem, NC. Decorating for the holidays should start with a clean home. Hire professional house cleaning services to give your home a thorough cleaning out before you put up the decorations.
Decorate in just 3 colors. Keep it simple. Choose three colors and decorate using those colors throughout your home for a natural flow that's not too busy. Usually, less is more when it comes to holiday decorating.
Go vintage. Use the old homemade ornaments and wreaths you've had for generations. Choose a theme like gingerbread men and create an old fashioned Christmas that your guests will enjoy. The holidays are about tradition over all else.
Keep it cool. Instead of lighting a fire, which will quickly become stifling with a room full of guests, fill your fireplace with lit candles. It creates the same ambience without the heat.
Get creative with your table centerpiece. Replace your usual floral piece with something like a gingerbread house, a small Christmas tree, or something more seasonal. Even a fancy bowl full of glass ball ornaments can add a festive look to your table.
Don't forget to look up. Even chandeliers can look more festive when you drape them with evergreen garland and bows or ornaments.
Use fresh flowers for fragrance. Those flowers you're not using for your centerpiece can be used in other areas to add fresh scents and beauty to your mantle, accent tables, and even your tree.
Light it up. Use lights whenever possible, preferably white for a classier look. Wind strings of lights into garland for extra flair. But avoid candles when you expect to have a busy, full house. A less risky option is the battery powered candles that flicker like real flames. Nothing ruins a party like having to call the fire department.
Rent dishes. Don't own any fine China? Wish you had a set of Christmas themed dishes and glassware? These items can be rented for your holiday get together; search for party or event rentals online. The best part? You don't have to find a place to store them for next year.
Use a catering service. Want to enjoy your party? Let someone else do all the work. Order catered food or even have a catering service come in and serve your guests.
Plan ahead. Do as much as possible in the weeks leading up to the party and even the night before. If you leave everything to the last minute you'll be too stressed out and tired to enjoy your own party.
Hire Maid Services in Winston Salem, NC. Yes, again. After your party or after the entire holiday season is through, hire maid services to come back to your home and clean up the aftermath. The tree needles, the crumbs, the tags, etc. that litter your home at the end of the season can all be gone with the help of The Maids of The Triad.
Call The Maids now at (336) 292-7805 to schedule your seasonal cleaning appointments before your holiday events.
https://www.themaidstriad.com/wp-content/uploads/2016/08/logo.png
0
0
The Maids
https://www.themaidstriad.com/wp-content/uploads/2016/08/logo.png
The Maids
2017-12-20 20:43:21
2018-01-24 19:52:30
Entertaining Tips for the Christmas Holiday