Clean Away the Threat of Spreading the Flu
Cleaning experts with The Maids offer tips to clean and disinfect
This season has been more severe than most when it comes to the flu virus. If someone in your home has flu symptoms, take extra caution by using these cleaning tips offered by the cleaning experts and franchise owners, Hank and Maria Williamson, at The Maids of the Triad to keep your home healthy.
Everyone in the home should wash his or her hands regularly in warm soapy water. For quick disinfecting, use alcohol-based antibacterial hand sanitizer. Make an effort not to touch your mouth, eyes or nose without first washing your hands.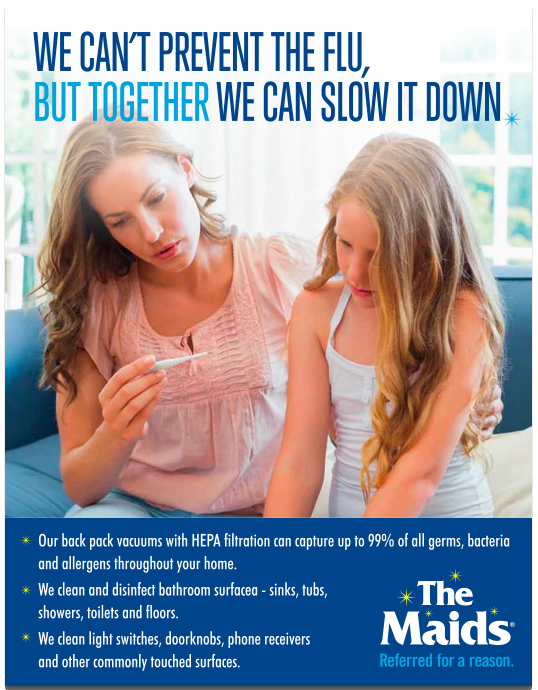 When cleaning, always wear rubber gloves to protect yourself.
Regularly use a household disinfectant on any surfaces that are commonly touched like doorknobs, appliance handles, remote controls, light switches, phones, and facial tissue box covers. Anything that is a hard surface, that is commonly touched – be safe and disinfect it. Follow proper usage instructions on the product label. Some viruses can live for up to 48 hours on hard surfaces.
Use a disinfectant in all bathrooms. Use a disinfecting cleaner on toilet handles and seats, faucets, showers, tubs and sinks. Follow proper usage instructions listed on the product's label.
Make sure to wash items like towels and bedding in hot water with detergent. The CDC recommends using water between 167-212°F.  If someone has been sick in the home, be sure not to share these items until they are thoroughly cleaned.
Change the vacuum bag or clean the vacuum canister after cleaning.
If multiple toothbrushes are kept in a common container, purchase new ones for everyone in the home.
Wash eating utensils and dishes in hot soapy water, or in a dishwasher. Be sure, again, not to share these items before first washing them. This is especially important if someone is ill in the home.
To protect yourself at work, use antibacterial wipes on your keyboard, phone and writing utensils regularly, in case others have used them.
For more information about The Maids of the Triad, call 336-292-7805
https://www.themaidstriad.com/wp-content/uploads/2016/08/logo.png
0
0
Preston Howard
https://www.themaidstriad.com/wp-content/uploads/2016/08/logo.png
Preston Howard
2015-01-15 20:47:29
2018-11-13 16:03:57
Clean Away the Threat of Spreading the Flu