How to Avoid Hiring the Wrong Maid Service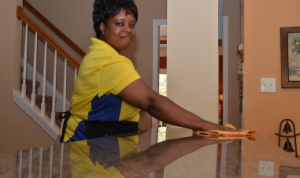 If you are like many people in the Greensboro area, you probably don't have time to clean your home on a daily basis. When you find yourself in this situation, your best option is to hire the right maid service in Greensboro to keep your home clean. Maid services offer professionals who will come to your house ready, willing and able to clean virtually every square-inch of it. However, there is more to this type of service than meets the eye. Here are a few tips to help you avoid hiring the wrong maids.
A Lower Priced Maid Service is Not Always Best
One of the big mistakes many people make when hiring a maid service in Greensboro is to shop by price. Hiring the lowest priced service typically means you are getting someone who has little if any experience and uses poor quality cleaning supplies to get the job done.
Shop Around to Find the Best Service for Cleaning Your Home
Choosing the first service you find in the phone book or online, or basing your choice on a single phone call is a big mistake. You can easily end up with a service that has a poor performance record or simply takes your money and runs.
One of the most important steps you can take when looking for a cleaning service is to do your homework. Research any company you are considering, read reviews, talk to those who have used the service and see what type of experience they have had with them.
Verify the Credentials of the Maid Service You Choose
When you finally decide on your short list of maid services in Greensboro, you need to ask each to provide you with proof they have a business license, are fully insured and that all their agents are properly bonded and insured. You should also ask them if all their employees have undergone a background check. You can't be too careful.
Ensure Your Services Uses Top Quality Cleaning Supplies
Many people will hire a cleaning service without finding out what type of cleaning supplies they use. This can lead to issues with poor quality supplies and equipment, resulting in substandard cleaning. Only once you have verified that they use the best supplies and equipment, should you hire a cleaning service.
Beware of Unrealistic Claims By Unscrupulous Cleaning Services
It is so easy to be lured in by some of the unrealistic claims many cleaning services make. You can easily end up paying a fortune for services you really don't need or want. Be sure you don't end up falling for these "come-ons" as they are simply there to sucker you into paying more than you need for a maid service.
Take Advantage of Free House Cleaning Estimates
This is another very common mistake many people make when looking for a maid service in Greensboro. Top quality services are always more than happy to come to your home and give you a free estimate. Take the time to discuss costs, services offered and any other questions you have before you sign a contract or agreement.
It's not hard to find a good quality cleaning service for your home or office. But, you should be prepared to do your due diligence. Following these tips can go a long way towards making sure you get the right maid service the first time.
https://www.themaidstriad.com/wp-content/uploads/2016/08/logo.png
0
0
The Maids
https://www.themaidstriad.com/wp-content/uploads/2016/08/logo.png
The Maids
2016-10-03 13:07:41
2017-03-30 14:35:09
How to Avoid Hiring the Wrong Maid Service