7 Ways you can use a Lemon to Clean your Home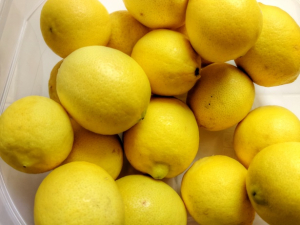 Did you know that you don't need to buy expensive cleaners full of harsh chemicals in order to clean your home? You can clean many of the routine places in your home that tend to get the hardest to remove stains using a lemon as your cleaning agent.
Why does it work? Because lemon juice is extremely acidic. The acidity powers through tough, stuck-on messes like the food cooked on microwave walls and soap scum in your shower. You don't need much at all to clean many places in your home. Lemons are cheap and they smell amazing, leaving your home fresh and chemical-free.  
Here are 6 ways you can use a lemon to clean your home from a leading Winston Salem home cleaning service. 
Microwave
Squeeze the juice of one lemon into a bowl of water. Microwave on high for 3-5 minutes. Let stand for 5 minutes. Remove the bowl of water and wipe down the inside of the microwave. The lemon juice loosens up stuck-on food for easy removal. 
Toilet
Squeeze half a lemon into the toilet bowl. Sprinkle some salt in. Then clean the bowl with your toilet brush. The lemon and salt remove the ring that tends to form at the water level. 
Shower
Apply lemon juice to shower walls using a sponge or spray bottle. Let the lemon juice sit for at least a minute, then wipe with a sponge or cloth. The lemon juice cuts through tough soap scum. 
Faucets
Rub half a lemon directly on faucets to loosen up stuck-on soap, toothpaste, or other gunk. Then wipe with a cloth for shiny faucets. 
Mirrors
Mix 3 tablespoons of lemon juice with one cup of water in a spray bottle. Spray on mirrors and wipe with a clean cloth or paper towel. 
Refrigerator
Worried about using chemicals near your food? Clean your fridge with lemon juice instead. Remove food, mix lemon juice and water in a spray bottle, then spray down the walls and drawers of your fridge. Let sit for a minute and then wipe. 
Garbage Disposal
When you're finished cleaning with your lemons, simply put the peels down your garbage disposal to freshen it up. 
Leave the Tough Cleaning to The Maids
If taking the time and effort to clean all of these areas with lemon juice doesn't sound like your idea of a good time, consider hiring a Winston Salem home cleaning service. The Maids use safe cleaning products in their 22 Step Healthy Touch Deep Cleaning System to achieve a thorough clean that results in a healthier home. All cleaning products used are safe for children and pets. 
The Maids can create a personalized cleaning regimen for your home based on your needs and budget. Weekly, Bi-weekly, monthly, and special occasion cleaning sessions are available. Call The Maids of Winston Salem home cleaning service today for a free quote: (336) 221-3129.
https://www.themaidstriad.com/wp-content/uploads/2016/08/logo.png
0
0
The Maids
https://www.themaidstriad.com/wp-content/uploads/2016/08/logo.png
The Maids
2019-11-14 15:48:40
2019-11-14 15:48:40
7 Ways you can use a Lemon to Clean your Home