7 Tips for Holiday Decoration Cleanup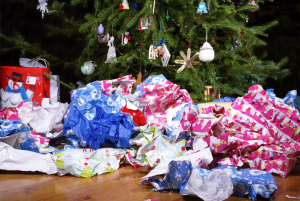 After all the gifts have been opened, the guests have gone home, and the cookies are all gone, it's time to face the facts: the holidays are over and it's time to undecorate. This most unpleasant of tasks can be daunting and even a little sad.
Don't fret
There are ways to make this task more manageable that will even put you ahead of the game for next year. Try these tips from one of the top cleaning services in NC, The Maids. 
Take pictures
Did you really nail a certain aspect of your holiday decor this year? Take a picture of it so that you can recreate the magic next year. In fact, take pictures of everything before you take it down for memory's sake.
Ask for help
Don't try to lift things that are too heavy for you or climb up on ladders to uncomfortable heights. Ask for help from family or friends and even consider hiring professional help for particularly tricky areas.
Make your own ornament organizers
You don't have to spend extra on special ornament boxes. Simply use bins lined with plastic cups to safely organize all of your ornaments and save a little money.
Wrap your lights around empty wrapping paper tubes
There is another use for empty wrapping paper tubes other than letting your kids whack each other or have a pretend sword fight. Cut them in half and wrap the lights around them. Make a slit in the cardboard at one end to secure the cord and wrap away to avoid a tangled mess next year.
If you had a real tree, roll it around to check for ornaments left behind
Fake trees reveal any forgotten ornaments as you take them apart, and if anything gets missed, it will just be on the tree for next year. However, with a real tree, it's easy for ornaments to get lost inside the tree as the branches settle and droop. Roll your tree around in the yard or on the driveway and search it carefully before rolling it out to the curb or tossing it out. Also, consider recycling your tree to be composted instead of filling up a landfill.
Make notes for next year
Are there things you want to remember for next year, such as decorations that need to be replaced or a list of what decorations are in each box? Make the notes now or you'll surely forget by next year.
Designate a box for items to donate
This is a good time to purge old decorations from your collection that are outdated or that don't really have any sentimental value. There's no point in wasting storage space on decorations you aren't planning on using next year. It's also a good time to donate old clothes and toys that have been replaced with new ones.
Spring for Professional House Cleaning Services in NC
If there's ever a time that hiring a house cleaner is worth it, it's after the holidays. With tree needles, bits of paper, plastic tags, glitter, and the general mess left from having house guests, there's a lot to do. After you get the decorations put away, hire house cleaning services in NC. The Maids can give your home a deep cleaning that will remove all the leftover holiday mess and leave your home fresh and clean for the new year. Call or text (336) 292-7800 today to schedule your post-holiday cleanup or get a free quote. 
https://www.themaidstriad.com/wp-content/uploads/2016/08/logo.png
0
0
The Maids
https://www.themaidstriad.com/wp-content/uploads/2016/08/logo.png
The Maids
2020-01-08 19:23:02
2020-02-05 19:32:30
7 Tips for Holiday Decoration Cleanup