5 Tips for Cleaning your Refrigerator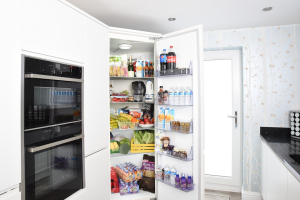 Cleaning out the refrigerator is a job you probably put off for as long as possible.  Whatever the reason you've decided to tackle this most unpleasant of tasks, it doesn't have to be so hard. Follow these easy tips for cleaning your refrigerator, or hire a Winston Salem home cleaning service to clean it for you.  
Empty and Sort. Your first step should be to remove everything from the fridge. But as you do so, throw away things that are out of date. Make a stack of leftover containers to be emptied and washed in one area. Then put all of the items that you'll be putting back into the fridge in one area. This will help eliminate confusion as to what is worth saving and what isn't.

 

Remove all Drawers and Shelves. Anything that can come out, should. Get it all out of the way to make cleaning the inside of the refrigerator simpler. It will also be easier to wipe down shelves and wash out drawers once they have been removed. 

 

Clean with Vinegar and Water. To avoid contaminating food with harsh cleaners, the best option for fridge cleaning is vinegar. It is non-toxic and food safe, but also powerful enough to eliminate tough spills and stains. Mix vinegar and water in a spray bottle and coat the inside of the fridge, concentrating it at the messiest areas. Then simply wipe with a rag or sponge. Use the same solution on the shelves and drawers.

 

Wipe Down Containers Before Putting Them Back. Before you return the jars, bottles, and containers to the refrigerator, wipe them off with the same vinegar solution on a rag. Wipe the bottoms, around the lid, and be sure to get any liquids that have dripped down the sides. You don't want to put messy or sticky items right back in the fridge or you'll undo all your hard work. 

 

Skip All This and Hire a Winston Salem Home Cleaning Service. If you want a truly clean refrigerator without all the hassle, hire professional house cleaners. A professional Winston Salem home cleaning service can clean your fridge top to bottom, inside and out. Your fridge will be spotless and smell fresher, and the best part is that you won't have to lift a finger.  

 
The Maids of Winston Salem Can Tackle your Fridge
Cleaning out the refrigerator may be one of the most dreaded housekeeping tasks. If it doesn't sound like your idea of fun, hire a Winston Salem home cleaning service to handle it and the rest of your kitchen. In fact, why not let the team handle your whole home so you can have more time for the things you like to do and the people you love. The Maids is a trusted, professional cleaning company serving Winston Salem and the surrounding area. Call today for a free quote: (336) 292-7800 (call or text).
https://www.themaidstriad.com/wp-content/uploads/2016/08/logo.png
0
0
The Maids
https://www.themaidstriad.com/wp-content/uploads/2016/08/logo.png
The Maids
2018-10-24 19:08:56
2019-01-24 19:16:22
5 Tips for Cleaning your Refrigerator