10 Ways to Clean with Vinegar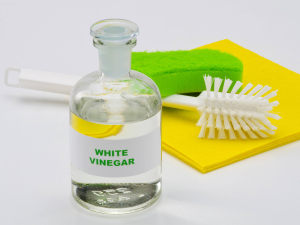 Are you looking for a natural, affordable household cleaner? Vinegar meets both of those requirements and a lot more. Perhaps you're looking for a cleaning service in Greensboro, NC that uses safe cleaning products. The Maids of the Triad use non-toxic cleaning products that are safe for people and pets. Here are 10 ways to clean with vinegar for when you do your own house cleaning.
Coffee maker
Fill the water reservoir in your coffee maker with vinegar and run it through one brewing cycle. Then rinse it out, fill it with water, and run another brewing cycle to clean out the vinegar. You'll have a fresh, clean coffee pot.
Windows
Mix vinegar and water and apply to windows and mirrors with a sponge. Use a squeegee to remove residue for clear, spotless glass.
Floors (no wax)
Mix ½ cup of vinegar with a half-gallon of water. Mop floors with your preferred mop. Never use vinegar on waxed floors or it will remove the wax.
Dishes
Have you noticed your glasses have a cloudy residue after going through the dishwasher? Pour 2 cups of vinegar in the bottom of your dishwasher and run the cycle as you normally would.
Microwave
Mix ¼ cup of vinegar with a cup of water in a microwave-safe bowl. Nuke it until it boils and fogs up the window on the door. Wipe down the inside of the microwave and stuck-on food should come right off.
Metal polishing
Take tarnish off of metals like pewter and brass with a mixture of ½ cup vinegar, a teaspoon of salt, and flour to make a paste. Apply the paste to tarnished metal and allow it to sit for around 15 minutes. Polish with a soft, dry cloth.
Tub/shower
Apply vinegar to soap scum on shower walls and tubs. Next, sprinkle with baking soda and scrub clean.
Sticker removal
Do you have a sticker or the sticky residue that gets left behind on a surface you wish to remove it from? Apply vinegar liberally to the sticker and let sit. The sticker should peel right off.
Treat stains
Apply vinegar to stains the same way you would stain stick or spray as a pre-treating method. Then wash the item as you normally would and the stain will hopefully come out.
Drain deodorizer
Are you tired of the swampy smell coming from the drain in your kitchen sink? Try pouring a full cup of vinegar down the drain once a week to freshen it up.
The Maids Follow a Healthy Cleaning Regiment
If health is a concern and you wish to avoid cleaning with harsh chemicals, vinegar is a wonderful natural product to use as an alternative. The Maids cleaning service in Greensboro, NC believes in protecting customers and the environment. The patented 22 Step Healthy Touch Deep Cleaning System helps to remove allergens, bacteria, and viruses from your home to help you and your family stay healthy.
Call The Maids today at (336) 292-7805 to inquire about a cleaning service in Greensboro, NC or get a free quote.
https://www.themaidstriad.com/wp-content/uploads/2016/08/logo.png
0
0
The Maids
https://www.themaidstriad.com/wp-content/uploads/2016/08/logo.png
The Maids
2020-01-30 19:12:44
2020-02-05 19:22:46
10 Ways to Clean with Vinegar