[av_revolutionslider id='18' av_uid='av-j6pd3′]
[av_revolutionslider id='16' av_uid='av-ioi1f']
Update
Protect Your Home & Family From a House Full of Germs
SERVICE AREA
Greensboro, Winston-Salem, High Point, Burlington, & Surrounding Areas
See if The Maids services your area:
Live Life to the Fullest and Leave the Clean-up to The Maids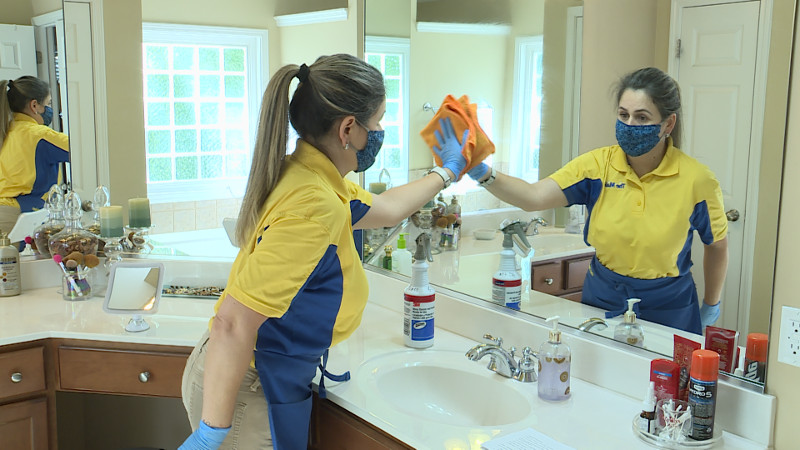 Do you struggle to find the time to clean your home? When you work full time and have a house full of children and pets, it can seem like a never-ending task. You have so much that you want to do and see, don't waste time on housework. Take one item off of your full plate by hiring The Maids of the Triad. Experience the freedom that comes from knowing that your home is clean and presentable without ever lifting a finger. The Maids cleaning services in Greensboro, NC offer a thorough, healthy, and affordable cleaning system that will leave your home looking beautiful and smelling fresh.
The Cleaning Services in Greensboro, High Point, Winston-Salem and Kernersville Offered by The Maids are a Cut Above the Rest
Thorough. The Maids 22 Step Ultimate Healthy Home Deep Cleaning System ensures that every surface and corner, floor to ceiling, is attended to. The Maids miss nothing.
Environmentally Friendly. All cleaning products used by The Maids are safe for the environment as well as children and pets. Rest assured that your home will be clean and healthy.
Eliminating Allergens. The Maids use HEPA filtered vacuum cleaners that remove even the finest particles from the air, ridding your home of allergens like dust, pollen, pet dander, and more.
Preventing Flu and Other Illnesses. The 22 Step Ultimate Healthy Home Deep Cleaning System removes viruses and bacteria, leaving your home free of germs that cause illness.
Bonded and Insured. The Maids house cleaning teams are all bonded and insured as well as thoroughly trained in-home cleaning, giving you a worry-free clean home.
100% Satisfaction Guaranteed. The Maids will not rest until you are completely satisfied with the cleaning services you have received.
Protect Your Home and Family from a household of Germs
As we all are spending more time in our homes, it's important that our homes are germ-free. We are continuing to clean, sanitize, and disinfect client's homes now more than ever.
Our disinfectant is approved by the EPA to kill the flu and germs. Our teams are not entering homes where clients have traveled or sick. They are trained and prepared to keep your home clean and safe for your family.
In your home, as part of our regular clean, your team disinfects bathroom surfaces, and other commonly touched hard surfaces and areas in your home with our EPA registered disinfectant.
Our teams are instructed to wear shoe covers while in your home.

All cleaning cloths are switched out between homes and laundered to disinfect each night.

Our vacuums and vacuum parts and cleaning tools are switched out or disinfected between homes and each night.

Our teams use antibacterial hand sanitizer between homes and carry liquid soap with them. We also have ample disposable gloves for the team to wear in your home.

Our office is following proper guidelines by the World Health Organization (WHO) and CDC on workplace preparedness and employee safety, including ensuring a clean and hygienic workplace, disinfecting office surfaces vigilantly, regular training on topics like on proper handwashing and safety information.
If you would like to schedule a thorough disinfecting clean, please call or text The Maids at 336.292.7800 (Call or Text).
Be well and safe.
Hank and Maria
The Maids Serving the Triad Does Your House Cleaning in Greensboro NC So You Don't Have to Worry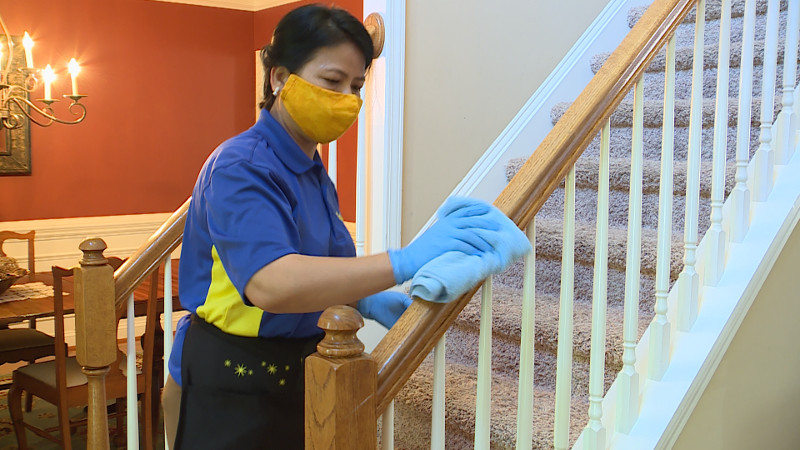 Having a clean, comfortable home is important. Finding the time to conduct a thorough house cleaning is difficult, especially with all the pressures and demands already placed on you. For more than 30 years, we have offered bonded, insured residential maids who pride themselves in quality home cleaning services that create 'me' time for our hardworking homeowners. Before joining our family, each maid is professionally trained to perform the detailed residential maid services we provide. Only passionate, caring people have the honor of wearing The Maids uniform.
Your satisfaction is our guarantee. At The Maids of the Triad our professional maids clean based on your customized plan. If you're not satisfied, our maids will come back and clean whatever area didn't meet your expectations.
Every home and every family is unique and will have different needs when it comes to house cleaning services in Greensboro, NC. The frequency, the number of rooms, the extent of the cleaning that needs to be done, will all vary by household. The Maids conduct in-home consultations to discuss what level of cleaning you will need and how often. Customized cleaning plans are designed for each home and can be adjusted to fit your budget and your cleaning requirements. You will find that you can afford to get some help with your housework and have more time for yourself each day, week, and month. Live your life and let The Maids handle the housework.
Set up a free in-home consultation today. We have very happy home cleaning customers in the Greensboro, High Point, Burlington, and Winston-Salem area. Give us a call or text at (336) 292-7800 today to schedule an appointment with a cleaning specialist.
It's Flu Season!
FOX8's Natalie Wilson spoke with Hank Williamson, owner of The Maids of the Triad, about three areas it's vital to
clean thoroughly during flu season.

FREE ESTIMATE
SATISFACTION GUARANTEED!